Five Facts to know about DITA
July 19, 2018
311

4 minutes read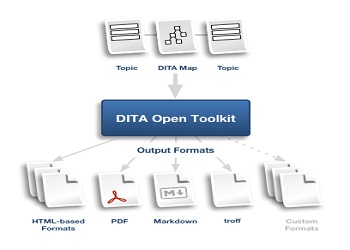 Nowadays, DITA becomes familiar among Engineers and Writers in Technical Communication Platform. Most of the industries shift their Technical Communication Platform to DITA, leading successful enterprise content strategy for the product or service. The content strategy with DITA helps to several benefits for the organization. The reasons behind the choice of DITA for Technical Communication Strategy includes several facts, which are clearly described in detail as follows:
#1 Clear Communication
DITA ensures clear communication for the contents in the organization. Most of the organizations are in great need of managing different contents either for development or management. Clear communication in DITA supports efficient change management for all phases in the project. DITA helps to manage the activities associated with the content development by establishing effective means of communication and change management.
#2 Content Model Development
In order to apply DITA as a content strategy model, it is not enough to use only XML model, but also need to review about the end-to-end content strategy of the organization and its classification within DITA. We need to consider the styles and structures in DITA for the contents. As components are involved in DITA, it is better for you to reuse contents and may rewrite contents partially or totally as required. With DITA, formal content reuse strategy is made easier than other standards. Apart from content reuse, conditional texts, refined searches, processes for content delivery are made simpler in DITA.
#3 Technology and Tools Evaluation
If you consider the conventional content strategy model, you may use any documentation tool and all other software for further processes. But, for DITA, if you need to implement in your organization for achieving business goals, consider the tools such as authoring tools, review tools, component content management system, a translation management system, and others. Desktop publishing is not similar to that of the component content management systems. Hence, features are different for both system and comparison is insignificant. There requires a tracker for tracking features of all tools during evaluation with priorities and business objectives.
#4 Content Delivery
DITA has special features in content delivery such as different formats including pdf, HTML, and all other formats as required. You can easily schedule automated batch processing at particular intervals whenever required.
#5 Interconversion

Research the best practices in DITA to study more about the conversion of the contents to DITA XML formats. For this, you need to focus on The DITA Style Guide and the associated specifications. For automating conversion without any errors, you need to tag all your contents in a consistent manner. We know that DITA operates based on the component content management system that involves numerous chunks of contents. These chunks may be categorized as DITA topics. In some cases, we need to rewrite contents as per DITA Specifications involving Topics, Concepts, and References.